Praying for Kids and Grandkids
Be sure to watch the corresponding video at the end of this article.
Worry Energy or Prayer Energy
I want to give you an exhortation about praying for kids and grandkids. My wife Darla and I have come to realize that one of our biggest assignments is to pray for our kids and grandkids. As parents and grandparents we tend to worry a lot about our kids, and it seems that it comes with the territory. I would like to encourage you to get God's heart and try not to worry so much, because worry doesn't accomplish anything. It just makes us feel bad and causes us to loose sleep at night.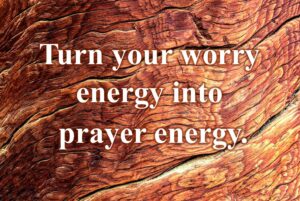 I would like to encourage you to turn your worry energy into prayer energy. I'm referring to the energy we take to get all worried about something and future trip about what might happen. Let's take that same energy and turn it towards prayer. Then, I believe, we're going to see some real breakthrough happen in their lives. Prayer is the number one resource we have. It is connecting with God in prayer, on their behalf, that will make the difference.
This is what Philippians 4:6-7 says:
"Be anxious for nothing, but in everything by prayer and supplication, with thanksgiving, let your requests be made known to God; and the peace of God, which surpasses all understanding, will guard your hearts and minds through Christ Jesus." NKJV
"Don't be pulled in different directions or worried about a thing. Be saturated in prayer throughout each day, offering your faith-filled requests before God with overflowing gratitude. Tell him every detail of your life, then God's wonderful peace that transcends human understanding, will guard your heart and mind through Jesus Christ." The Passion Translation
So we have the encouragement of scripture to pray and bring them before the Lord and ask Him about what's going on in their lives. He wants to bring real solutions to what they are facing. He loves them and WANTS to work in their lives.
Three Ways to Pray – Prayer Focuses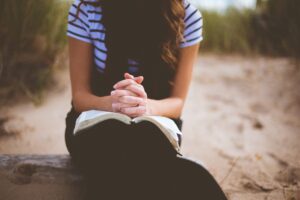 I want to talk about three primary ways we can pray for our kids and grandkids. I want to encourage you that prayer really can change things. As God begins to answer your prayers by the Holy Spirit, there are breakthroughs that happen in their lives that wouldn't happen otherwise.
Though I'm giving you three primary prayer focuses, there are, of course, many other specific areas you can pray about for them. I believe God will lead you in those areas to focus on as well.
Focus One – Praying for Protection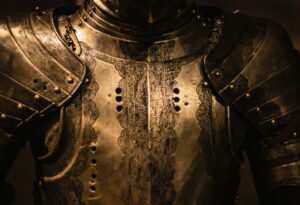 The first is to focus on praying God's protection on them. We all desire to see that God will shield and put a hedge of protection around our kids and grandkids … to shelter them, watch over them and put angels around them. As you are praying, believe that God will place them in the center of Psalm 91, the secret place of the most high:
"When we live our lives within the shadow of God Most High, our secret hiding place, we will always be shielded from harm." TPT
Also declare a verse like Isaiah 54:17 "No weapon formed against you (them) shall prosper." NKJV
God Will be Watching After Them
I want to share a story about when Darla and I were moving to Scotland in 2008 to become missionaries. We had five adult kids and one grandchild at the time. Our youngest daughter was just starting her first year of college. The thought of leaving them back in the states for a long time was causing me some concern. With us being so far away, I began to ask myself, "What if something happens?"
As I was praying about it one day, the Lord spoke to me. He said, "You need to understand something about your kids and your grandson. I love them more than you do so I'm going to watch after them." It's like He was saying, " I am on the job, I don't sleep and I will watch day and night. I'm gonna be watching out for them." And … He did! I was so encouraged by that word from the Lord.  It brought a real settled peace in my heart and it gave me the unction to pray for them and do my part.
So we need to pray for protection for the for them, which is very important and must happen on a regular basis.
Focus Two – Praying for an Undeniable Encounter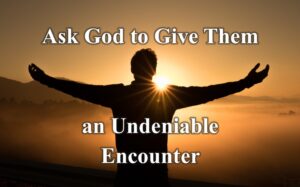 The next prayer focus is to pray that God would give them an undeniable encounter. The reason we need to pray that God will encounter them is because Jesus really is the primary answer to the need of the human heart. Ultimately God is the source of everything that's going to be helpful in the life of your child or grandchild. All good things come from Him!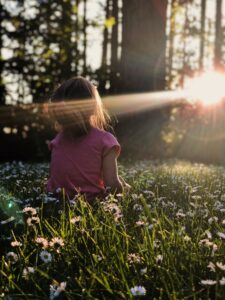 "Every gift God freely gives us is good and perfect, streaming down from the Father of lights, who shines from the heavens with no hidden shadow or darkness and is never subject to change." TPT
So … praying for an undeniable encounter, what does that mean? It means God will come to reveal himself to them. He will express His love to them, in such a way, that it will be beyond denying and explaining away. He will show them that He is for them and He loves them. They don't have to do anything to earn it.  They just have to surrender and receive it. He is coming to bring them into a place of encounter.  This is what happened with Moses at the burning bush and the Apostle Paul on the road to Damascus. It's the confronting and encountering of the Lord that brings a shift and change.
Focus Three – Praying for the Spirit of Truth
The last thing I want to talk about is praying that they would receive the Spirit of truth and not be to deceived.
Jesus talked about the Holy Spirit as the Spirit of truth in John 14:16-17
"And I will pray the Father, and He will give you another Helper, that He may abide with you forever – the Spirit of truth, whom the world cannot receive, because it neither sees Him nor knows Him; but you know Him, for He dwells with you and will be in you." NKJV
I've been greatly concerned about the younger generation. It seems like there is phenomenon happening that the Bible talks about, where people are declaring that good is evil and evil is good. I really have this burden to pray for my kids and my grandkids, that they don't fall into deception by believing something evil is good and that something good is evil.
Jesus said you shall know the truth and the truth shall set you free. Now Jesus is the truth we're talking about here, but also the Holy Spirit is the Spirit of truth that brings revelation and understanding.  Truth to dispel the lies they believe about God, and to deal with the lies that they are believing about themselves.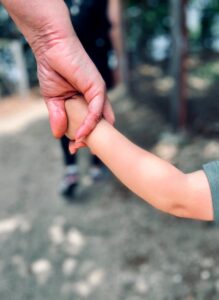 Lies like, I have to perform to earn God's love and acceptance. That is something that is already done. Philip Yancey said, "Grace means there is nothing we can do to make God love us more… And grace means there is nothing we can do to make God love us less… Grace means that God already loves us as much as an infinite God can possibly love."
We need to ask God to bring the Spirit of truth, especially when dealing with adult kids or grandkids. We should focus our energy on praying for them, and not necessarily arguing with them to try to change their minds about something. One thing I've noticed, when we get into an argument with someone, the person we're arguing with tends to step back into a defensive posture. They then tend to reinforce their argument by digging in on what they believe. So what I would encourage you to do is to not focus your energy on challenging and confronting them, but instead pray for them.
Now there's a time when your kids are small and you get to line things out for them, of course. But as they become adults, the problem many of us face is that we have a hard time with the transition from being a parent, lining things out, to become the one that now gets to make suggestions. Now, we get to primarily pray for them. On the planet you should be their biggest supporter, their biggest advocate and their biggest intercessor. I would encourage you to take the energy you are spending to win an argument with them, and with that same energy go to prayer for them. In prayer be contending for them, interceding for them and asking God to move in their lives. Ask God to give them an undeniable encounter. Ask God to arrange situations, encounter them in their dreams at night and to send people into their life that will bring something of God to them. So instead of determining to just win an argument… bring God into their lives by prayer.  The Holy Spirit can bring a message, and can convince the human heart by bringing understanding and revelation to them.
I love this quote from J. Sidlow Baxter: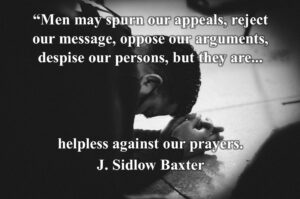 "Men may spurn our appeals, reject our message, oppose our arguments, despise our persons, but they are helpless against our prayers."
You must believe that your kids and grandkids are helpless against your heartfelt prayers for them, motivated by nothing but love.
When someone's in deception about something, they can't see clearly. The Holy Spirit can come and if He can just convince them to open their vision, just a little, then something interesting happens… suddenly they see all of it.  Then the Holy Spirit is able to minister to them and bring them to a place of change and shifting in their lives; especially those who have walked away from the Lord. You can pray that God will come and bring the Spirit of truth in such a way that there is going to be a challenging confrontation and and revelation of love by the Holy Spirit in their lives.
Some might say,  "You don't understand my kid, my grandkid …  they are a TOUGH CASE.  I appreciate what you're saying Mike, but you have no idea what you're dealing with here. They've been in jail, they're doing this, they're doing that. They have hardened their hearts."
Jeremiah's Story
Can I tell you a story that happened some years ago? Darla and I. were youth pastors and we took a bunch of young people to a weekend event. God was moving powerfully and kids were getting saved and having their hearts and minds transformed. It was one of the pinnacles of our youth ministry.
So on the last day of the event, we gathered around in the field where we were camping. We said, "Let's just have one more time with the Lord before heading home, and spend some time worshipping a bit." We did! And the Holy Spirit started moving. Kids were being powerfully touched.
There was a kid named Jeremiah with us. He was a heavy metal guy, and rock music was his thing. Actually, he reminded me a bit of me at that age. His parents were the children's pastors who sent him to the youth event. They were a bit desperate, asking, "Please can you help our son?" I thought to myself, "Wow, this kid is tough!"
So when God began to move at the camp that morning, and all the other kids were getting touched, one of our team went up to him and asked, "Hey Jeremiah, what do you think of this?" He said, "There's enough power here to knock the walls of Satan down!" Then our team member challenged him with, "What about your walls?" He responded, "Oh, I'm tougher than that!" Then he folded his arms in defiance. This kid was tough. He thought he had it all sorted out. About that same time, I went over to him and asked him if he would like to get saved. He said, "Uh … NO!" So then I just left them alone. About 20 minutes later God said to me, "Why don't go ask him now."  So I walked over and looked Jeremiah in the eyes and said, "Are you ready to get saved?" Now what happened next is no exaggeration… he burst into tears and grabbed my shirt, buried his face in my chest and begin howling with sobs as he was repenting and giving his life to Jesus. I yelled to all the young men for help then we gathered around him and prayed for him. We were all amazed at what God was doing. That afternoon we brought him home and his parents were so excited that their son who was lost was now found.
So if you have someone that is "super hard" … GOD CAN DO IT! I've seen it with my own eyes.
I hope this article has been an encouragement to you. When it comes to your kids or grandkids, "Ask and keep on asking and it will be given to you; seek and keep on seeking and you will find; knock and keep on knocking and the door will be opened to you." Matthew 7:7 AMP
REMEMBER TO TURN YOUR WORRY ENERGY INTO PRAYER ENERGY