Intercession and Warfare – A New Look at Spiritual Warfare
Be sure to watch the corresponding video at the end of this article.
This is a chapter from My Book: Fanning the Flames of Intercession.
Please check out the book

here.
~~~
"For the weapons of our warfare are not carnal, but mighty through God to the pulling down of strongholds" (2 Corinthians 10:4)
The Center Ground of Warfare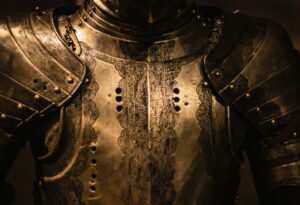 Spiritual warfare is one of those topics that is often misunderstood, and therefore sometimes avoided. On the other hand, it is often given too much attention. When I was a young believer I would hear of things like warfare, deliverance and demons and I would get this scary sick feeling that made me want to avoid such things.
I found that the more I understood, the less fearful I became, especially when it came to warfare. I discovered that it is so much more and so much less than what I first thought.
My first encounter with spiritual warfare came only a few months after I came to Jesus. I remember praying one night and this thought hit me, "I better be careful what I pray for or the devil will get angry and come after me." So I finished praying and went to sleep. Sometime in the night I had a dream that put things in perspective. In the dream I was in the corner of a dark room sitting on the floor. All of a sudden Jesus walked in and told me to trust Him and then left, shutting the door behind Him.
A few minutes later, the devil walked in and started to laugh and jeer at me. He came over and began to kick me as hard as he could. I wrapped my arms around my knees and buried my face for protection against his attack. Suddenly, in an instant of time, our positions were reversed and he was in the corner and I was kicking him!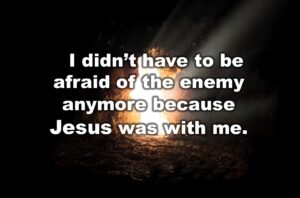 I woke up with these thoughts:  first, the devil will kick you when you're down and second, I didn't have to be afraid of the enemy anymore because Jesus was with me.
"And the God of peace will crush Satan under your feet shortly. The grace of our Lord Jesus Christ be with you. Amen."  (Romans 16:20)
In this chapter I want to take, what I call, the "center ground" on spiritual warfare; somewhere between a fearful avoidance of the matter and presumptuous overemphasis of it. I remember teaching on intercession and warfare at a conference in Madrid, Spain. Though the Spanish pastors wanted to embrace intercession, many of them wanted nothing to do with warfare. They thought that warfare was standing in the city square and rebuking the spirits over the city. They had heard horror stories of people who had tried such things with
disastrous consequences.  So they said, "If this is warfare, we don't want any of it." The problem was, they did not have a clear understanding of warfare; what it is and what it is not.
"Where there is no revelation, the people cast off restraint; But happy is he who keeps the law." (Proverbs 29:18)
"If people can't see what God is doing, they stumble all over themselves; but when they attend to what he reveals, they are most blessed." (Proverbs 29:18 Message)
What I want to put forward is not an exhaustive teaching on warfare, but what I have learned in my journey as a warrior in the army of the Lord.
"No one engaged in warfare entangles himself with the affairs of this life, that he may please him who enlisted him as a soldier." (2 Timothy 2:4)
The Greek word for soldier in this verse is stratologeo, which means: to gather or select as a warrior, that is, enlist in the army, choose to be a soldier. This is where we get the word "strategy" from. In warfare, we are not just randomly fighting, but carrying out the strategy of the Lord
Jesus the Ultimate Example
Jesus is the ultimate, most victorious warring king in the history of the universe. It would do us good to learn from His example and follow His leadership. Actually, dealing with the enemy was wrapped up in His whole purpose for coming to earth in the first place.
"For this purpose the Son of God was manifested, that He might destroy the works of the devil." (1 John 3:8)
The word manifested is phaneroō and it means to render apparent – appear, manifestly declare, (make) manifest (forth). The word destroy is luo and it ̄ means to "loosen" – break (up), destroy, dissolve, (un-) loose, melt, put off. (Strong's)
"Behold, I give you the authority to trample on serpents and scorpions, and over all the power of the enemy, and nothing shall by any means hurt you." (Luke 10:19)
In these verses, it appears to me that Jesus is planning to obliterate the works of the devil and his hordes and He wants to use us to do it. The key is to understand what our place and rank is in the army of the Lord, and how to operate in proper parameters. In earthly warfare, a soldier doesn't just run out and start shooting; there is protocol that has to be followed and there are lines of authority that must be considered. There are timing issues, strategy issues and maturity issues that must be addressed.
Defeating the Giants of Opposition
In March of 2007, my wife Darla and I went to Raleigh, North Carolina. We were able to attend a church to hear a great man of God named Frank Hultgren preach. Frank and June Hultgren are dear friends of ours from Perth, Australia. If you have been around me very much, you would have heard me refer to Frank (now in his 80s) as my mentor in intercession, warfare and the prophetic. The message that Frank brought was about Caleb demanding his promised inheritance at the age of 85. There is a spiritual principle we can learn about spiritual warfare from this Old Testament story.
"And the LORD was with Judah; and he drove out the inhabitants of the mountain; but could not drive out the inhabitants of the valley, because they had chariots of iron. And they gave Hebron unto Caleb, as Moses said: and he expelled thence the three sons of Anak." (Judges 1:19 -20)
On the mountain of promise there is an enemy that does not want us to enter into our inheritance. We can learn some lessons from the enemies that Caleb and others in the Bible had to face. In warfare there are not only giants of opposition, but giants that want to steal, kill, and destroy.
Let's look at some of these giants, beginning with Anak and his sons:
The name Anak means: a necklace as if strangling chain, a collar. This is a spirit that is trying to choke the life out people. This spirit is similar to the demonic spirit some refer to as a python spirit that strangles and smothers to steal the life away from a person.
The next giant is Ahiman. His name means: brother of a portion (that is, gift). This is the spirit trying to shut down the gifts of the Spirit from flowing in the Body of Christ.
This would be the spirit of antichrist or "anti – anointing" spirit.
The next giant is Sheshai. His name means: bleached stuff, whiteness. This is a religious spirit trying to turn colorful expression into pale religiosity. Have you ever had thoughts like, "Christianity sure is boring. The world seems a lot more exciting."? They are likely from this spirit trying to get you in a place of colorless, mundane mediocrity instead a full life in the Spirit.
The next giant on our list is Talmai. His name means: to accumulate, that suspends the waters; heap of waters. This is an opposing spirit trying to dam up the flow of spiritual power and provision. It attempts to put God's people under siege by cutting off the supply lines. This spirit especially attacks intercessors, givers and prophetic people. Suspending the waters is like the dropping of a slouch gate on an irrigation ditch. It won't take long for things to dry up and wither.
In 2 Samuel 21:18, the giant Saph is mentioned. His name means containment. This is the spirit sent to bring containment on the Body of Christ. He is that which impedes and opposes growth on all levels. One of the things that Frank mentioned was a sign that he saw at Oral Roberts University (Frank was a professor there); the sign said "Make no small plans here." Containment comes to keep our plans small, our faith weak, our success limited and our fruit shriveled.
I think we need to rise up as Caleb did, kick these giants off our promised land and claim all of our Godly inheritance in Christ.
Winning Our Own Battles
One of the reasons a good number of Christians never enter the realms of intercession is because it is all they can do to win their own battles against the world, the flesh and the enemy's attacks.  We all have personal struggles that we are dealing with in our lives, and if that is where you are, that's okay.  But what we really need is believers who can not only win their own battles, but then go on to pray for and minister to others so that they can win great victories and advance as well.   
When Israel was about to enter the Promised Land, there were 2 1/2 tribes that came to Moses asking if they could have their inheritance on the east side of the Jordan.  He said they could, but first they would have to go into the Promised Land and fight for their brothers (Numbers 32). We need people who can effectively wage war in intercession on the behalf of others, but first we must learn how to win our own battles.
For many years I struggled with severe inferiority and rejection issues.  This caused me to doubt God's ability and willingness to come through in my life, especially relating to my call to serve Him.  I was bound by "orphan" thinking. 
There was a time that I strongly believed God was calling me to take a team of intercessors to Scotland.  The enemy began to challenge me on this when I was vulnerable. It was when I was away on a mission trip and the airplane flight had aggravated an abscessed tooth.  I was in great pain because of the tooth; but at the same time, I was under an extremely heavy, demonic mental attack.  The enemy was saying to me over and over, "You are never going to Scotland! You will never pray there. You will never preach there. Never, never, never, never!"  I was under this mental attack for about three days. It was so bad that I was beginning to waver in my faith and believe the lie.
Just before a Sunday night meeting, I asked the mission team if they could pray for my tooth. I did not tell them about the mental attack. Suddenly, a sister on the team gasped and turned to me with a shocked look.  She said, "I just heard the audible voice of God. He said, 'Tell him that all I have promised, I will do.'" That prophetic word completely defeated the mental attack I was under.  It was as if that promise had then become a weapon for me to fight the enemy with.
About two weeks after returning home, the enemy came around with the same lie, but this time I had a different response.  I said, "Oh really? Well, I have a word from the Lord that says, all He has promised He will do."  I took that word like a sword and cut the enemy's head off with it.  Amazingly, he never tried to attack me in that way again. By the way, since then I have been to Scotland 11 times and lived there for three years.  The enemy was wrong again.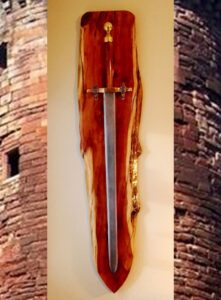 Jesus used this same strategy in Matthew 4 to defeat Satan.  He just declared the word of the Lord and won the victory.  A verse that clearly describes this principle is 1Timothy 1:18 – "This charge I commit to you, son Timothy, according to the prophecies (words from the Lord) previously made concerning you, that by them you may wage the good warfare." The Word of God is described as a sword in Ephesians 6:17, "and the sword of the Spirit, which is the Word of God…"  The Greek word for "Word" is "rhema" which is commonly referred to as a present tense, personal word from God. The Word is also described as a sword in Hebrews 4:12, "For the word of God is living and powerful, and sharper than any two-edged sword, piercing even to the division of soul and spirit, and of joints and marrow, and is a discerner of the thoughts and intents of the heart." In the battle against our struggles and issues, isn't it great that God has given us such a powerful weapon to fight with? The Greek word for "Word" in this verse is "logos" which is referred to as the general, written Word of God.  I believe we can take the prophetic words we have received plus specific Bible verses about our issue, as weapons to the battleground to fight with.
Whenever we are battling, if we take the Word and declared it over ourselves, the enemy will have no choice but to flee.  It is not a selfish thing to speak the Word over ourselves. However, we must be focused and determined to declare the Word with authority.
For example, if you struggle with fear, you can take a verse like 2 Timothy 1:7 and pray it in this way: "I declare in Jesus name that God has not given me a spirit of fear, but of power and of love and of a sound mind." Or if you deal with depression, you can pray Isaiah 35:10, something like this: I declare in Jesus name that I will not be depressed because I have obtained joy and gladness, and sorrow and sighing shall flee away.  If inferiority, low self-esteem and an orphan mindset is your struggle, then in prayer declare a release of the spirit of adoption in your life.  (Romans 8:15-17)
Some might say, "It is not that simple. I am dealing with serious issues that I have had for years." I don't see this as a quick fix but the beginning of a process. Much of our problem is that we have been reinforcing our issues with negative speech about ourselves. If we speak the Word instead, I believe we will see things change dramatically. Again, some might say,
"Yeah, but what do I do if I stumble and fall back into my issue?" You get back up, ask for and receive forgiveness and start in again "speaking the truth" over yourself.
As you begin to overcome in areas of your own life, you will then be able to pray and declare God's victory over difficult issues in other people's lives.  Remember, the definition of intercession is focused prayer for others. Whether it is praying for family, friends or others God would put on our heart, we can fight for them in prayer and see God do tremendous things in their lives.
The Protocol of Warfare
Understanding the protocol of warfare and its' many principals will help us effectively and safely extend God's kingdom on the earth. This applies to everything from praying off nightmares for your kids to onsite intercession in foreign countries.
It seems that in intercession and warfare, there are as many things not to do as there are to do. We must learn to know when to move forward in confidence and when to hold back from engaging the enemy.
The Principals of Warfare
I would like to share with you what I call the principals of warfare. These are the principles that I have learned and some stories of how I learned them. In the telling of the stories, I say things like, "The Lord said" or "The Lord showed me" or "I saw this or that". I am referring to my perception of what was happening in the realm of the spirit. Of course, I am a fallible human and "see in part" as Paul says. Therefore, my endeavor is to be as scriptural as possible so as to be on a solid footing.
"But solid food belongs to those who are of full age, even those who because of use have their senses exercised to discern both good and evil." (Hebrews 5:14)
Principal #1: We must allow God to work deep in us in order to allow the enemy no foot holds.
Graham Cooke put it this way, "You can't take ground from the devil if he has got ground in you." We are not talking about perfection here, but it is important to allow God open access to our hearts to let him deal with any issues that might be an obstacle as we enter into the realms of prayer. That is why character is so important.
Jesus said, "Behold Satan comes, but he has nothing in me." As the Holy Spirit does His job of conviction, every issue must be taken to the cross. Do you ever wonder why, many times when you go to pray, the first thing you end up doing is repenting for something the Holy Spirit is pointing out?  The purpose is to clear the way for unhindered intercession.  One of the things we teach our intercessors before we take them to do onsite intercession is that they need to be ready for opposition in whatever area they are dealing with. Even though they may already be in the process of working on an area in their lives, we take them through a time of repentance to make sure that they have brought everything they are aware of before the Lord. Then we remind them that they should not let their guard down even weeks after they get home. Any intercession is encroaching into enemy territory and the enemy will not be happy with you for it. Unfortunately, many Christians have adopted a "Don't bother me and I won't bother you" approach to the enemy. However, his goal is nothing less than absolute destruction in the lives of people. There can be no compromise. We will never grow out of our need for the Holy Spirit's voice to convict us of any area where we have agreed with the enemy – or our own carnal thinking for that matter.
Principal #2: In warfare you must always be led by the Holy Spirit.
"For as many as are led by the Spirit of God; they are the sons of God." (Romans 8:14)
Warfare is not something you do on a whim or just because you feel like it. There must be an immediate reliance on the Holy Spirit as to what to do and how to go about things.  It doesn't always have to be a long process. It does not take me long to hear the Holy Spirit when a member of my family is being attacked. Even then, there may be specific instructions He wants to give me. A good way to pray is, "Spirit of truth, will you show me what to do and how to pray in this situation?"
"And I will pray the Father, and he shall give you another Comforter, that he may abide with you forever; even the Spirit of truth." (John 14:16, 17a)
This especially applies as you are interceding and you perceive evil entities in the spiritual realm. I remember once when my son and I went for a hike to the top of Spencer's Butte in Eugene, Oregon. When we got to the top I wasn't even thinking about spiritual things, but I soon became keenly aware of a strong demonic presence on the hilltop.  They had become aware of my presence as well. I wasn't there to pray, I was there to spend time with my son. I said out loud, "I am not here to pray or confront anything so don't worry." We were then able to enjoy the rest of our time. We will talk more about properly engaging demon spirits later in this chapter.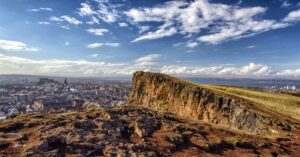 Another instance was in 2005 when I had come to Edinburgh, Scotland. I was with a team to assist with two conferences on consecutive weekends in Manchester, England. I asked if we could drive up to Scotland between conferences so I could inquire of the Lord about taking a team of intercessors there. I climbed a hill in Edinburgh called Salisbury Crags while there. On the way up I heard the Lord say that there were six pagan spirits waiting for me at the top. Instantly, I knew by the Holy Spirit that I was not to confront these spirits at that time. As I approached the top, there were four Japanese tourists looking over the city. I said, "Lord, is this what you are talking about?" He said," No, just wait a few minutes." The Japanese tourists soon left and I went to the peak to see what I could see. I closed my eyes and instantly became aware of the six spirits. There were three on either side of me dressed in dark hooded robes. Edinburgh has one of the largest pagan festivals in the world called the Beltane Fire Festival. On April 30th each year, seven to ten thousand people gather to celebrate the "goddess of fertility" on another hill in the city. These were the demonic spirits working with the pagan leaders in the city. They said to me nervously, "This is our land." I responded with something that I instantly knew intuitively. I said "Actually, this is Gods land by creatorial right." I had never heard the word "creatorial" before, but it fit at the time. Then they said with a desperate tone, "Well the people are ours." I said "Well we will have to see about that won't we? And I am not talking to you anymore." Then I turned away and walked off the hill.  Jesus never got into long conversations with evil spirits so neither should we.
Then there are times that we are aware of evil spirits, and He definitely wants us to act. I remember once, when I was praying at the church one morning, I saw something unusual in the spirit. I had been praying for my pastor's wife who had been plagued with severe migraine headaches for some time. As I prayed, I saw a picture of her with a demon on her back. The unusual thing was that this demon had these long talons buried in her head. I said,
"Lord what do you want me to do about this." He said, "I want three arrows in this demon now."
The Lord confirmed to me that this was Him, so I raise my spiritual bow. (I call it "spiritual mime" or acting out in the physical what you are doing in the spirit.) I shot three arrows in the direction of their house and felt a real release. This was about 7:30am. At about 8 o'clock the pastor came into the office. He said, "You won't believe it. This morning my wife was having tremendous pain from a migraine and then all of a sudden, the pain was gone." I questioned, "Did that happen about 7:30?" And he responded, "Yes exactly 7:30."  I then told him the story. Praise God the spirit of infirmity was defeated.
Going On the Offensive
In our ministry, one of the exciting things we do is offer intercession support for outreach teams.  One of the ways some of the Scotland ministries do outreach is by sending a team into a new age mind, body and soul fair. They set up a booth next to tarot card readers, new age practitioners, pagans and witches. They offer prayer for healing and spiritual readings (prophetic ministry). When they minister to people, they tell them right up front that they are followers of Jesus.  God has worked miraculously at these fairs through a couple of ministries called Glasgow Prophetic Centre and Light in Life.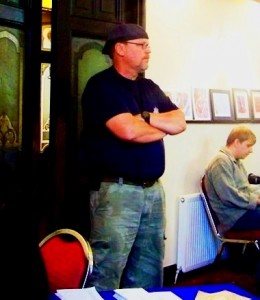 I have been involved in several fairs with GPC in Glasgow, and also was part of the team at the largest psychic fair in the world in London in 2010.  They have had many people saved and many instantly healed right there at the fair. My job at these outreaches was to provide the intercession cover for the team.  I would stand 10 to 15 feet away and pray for the team and anyone receiving ministry.  This allowed the team to minister without having to look over their shoulder.  They previously had team members that had been actively cursed to their face by those at the fairs.  My job was to see that did not happen.  I am primarily there to protect the team.  They started calling me Big Mike, which is from the movie Blindside.  In the movie, Big Mike's job in football was to protect the team.  Little did they know that Big Mike was my nickname growing up also.
There is one particular time at a psychic fair that I would like to tell you about.  I was with Light & Life at a place called West Kilbride, Scotland.  As the fair got going, I walked around the room and prayed quietly. I asked the Lord if there was anything He wanted me to be aware of.  He replied, "Yes there is." I felt the hair on the back of neck stiffen.  "Today we go on the offensive." Boy did He have my attention. He said, "I am really tired of this. I want you to walk around this room 12 times and disallow illegal access into the spiritual realm."    I believe the only right and legal way to enter the spiritual realm is through Jesus by the Holy Spirit.  Jesus said, "I am the door." So I took about a half-hour to really pray about what the Lord was saying. I wanted to make sure that I was hearing properly.  In warfare, there is no need for haste. Once I received confirmation from the Lord, I started to carry out the strategy by walking clockwise around the room. Those of the enemy's camp (witches, pagans and so forth) always march counterclockwise.  I began to say under my breath, "I disallow illegal access into the spiritual realm in Jesus' name." I said this over and over as I marched around the room.
What this meant for the practitioners was that they were no longer able to access information from demons, but had to bring something out of their soul to try to say anything meaningful to these people.  When I was finished, I stood by a doorway.  I asked the Lord to show me what was going in the spiritual realm. I saw a vision of an angel standing next to one of the tables where a man was reading tarot cards.  The angel was standing there, as if on guard, with his arms folded.  Next to him was a very angry demon.  He was shouting at the angel saying, "He can't do this. We have a right to be here. He can't do this!" The angels did nothing but look at the demon and say, "Well he did it." and then remained on guard.
When I saw this, I burst into laughter.  The enemy has legal rights until a son or daughter of God speaks, by the direction and authority of Christ, into a situation. The enemy then has to submit to that declaration. When we move out in warfare on assignment, we can have confidence that God is with us and will perform His word.
Principal #3: Do only what you are told to do. Don't add to the orders. 
Part of being led by the Spirit is to not add to what He says. This was one of Adam and Eve's problems. The illustration from scripture is Jericho and Ai. In Jericho, Joshua was given explicit directions about how to win against a heavily fortified city. It probably seemed foolish, but it worked.
Sometimes in intercession and warfare we are called to do seemingly foolish things. I remember Graham Cooke saying one time, "As prophetic people we are called to unusual things at times, but in our life, we should strive to be as normal as possible." I remember thinking at the time; "I think intercessors should have the same goal." I have been on a crusade for years to take the flakiness out of intercession. I think some see flakiness as a mandate rather than the exception. No wonder some pastors have a hard time wanting intercession in their churches. Now there is nothing wrong with manifestations and the like, but let's just make sure it's real. In Jericho Joshua prevailed, but in Ai it was another matter.
"They returned to Joshua and reported, 'Don't bother sending a lot of people–two or three thousand men are enough to defeat Ai. Don't wear out the whole army; there aren't that many people there.' So three thousand men went up–and then fled in defeat before the men of Ai!" (Joshua 7:3-4)
In these verses, not only did they not add to God's orders, but they didn't even ask Him what the orders were. From then on it was common for the leaders of Israel to "inquire of the Lord" before a battle.
 "And Jehoshaphat said unto the king of Israel, Inquire, I pray thee, at the word of the LORD today." (2 Chronicles 18:4)
In any warfare situation we must ask, "Spirit of truth, what do you want us to do?" And then do only that.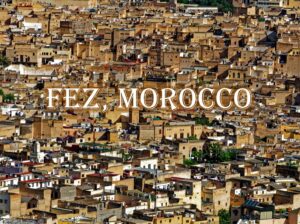 In 1999 I went with an intercession team to Fez, Morocco to do covert onsite intercession. In the week before the trip, we asked the Lord what we were to do in Morocco. He said two things. One was to physically bury the Word of God in the ground at the top of the city ramparts. The other was to read scripture out over the city.
While there we were visiting with some long-time missionaries. They asked us about our plans at the ramparts and we told them what the Lord had shown us. They said that was great because a team came a few years earlier and went up there and started randomly rebuking spirits. Then after the team had left, the missionaries got beat up by the enemy for about six months. Lesson learned.
Principal # 4: In warfare, ask God for confirmation before you step out.
In the previous story, there was one part that I left out. The night before we left for Morocco, we gathered with some prophetic people to hear what the Lord might say about the trip. We had not shared our strategy with anyone. As we began to pray, a brother said he had a word for us. He said, "This is going to sound really strange, but I keep hearing the Lord say that you are to take Bibles and bury them in the ground over the city." We all began to laugh.  Then as we told him that we had already bought the Bibles and that the Lord had already told us the same thing, he began to laugh as well.
"But the Lord is faithful, who shall establish you and guard you from the evil one."  (2 Thessalonians 3:3)
The Greek word for establish in this verse is sterizo which means to confirm. There are several reasons why we need confirmation before we step out in warfare.  First off, there is the fact that God sees and knows so much more than we do. His wisdom, thoughts and ways are so much higher than ours. It would be wise for us to follow His lead and do it His way.
Next is the confidence factor. It is very important not to move out in a stutter step fashion. When we have confirmation, we can move forward with no hesitation. James 4:7 says,
"Therefore submit to God. Resist the devil and he will flee from you." This is how that verse works. Submitting to God releases confirmation and then the enemy flees as we move forward in confidence.
Once I was leading a group of intercessors on a Tuesday night. The Lord had instructed me to break them up into groups of two or three to pray. After I gave them the instruction, I heard the Lord say to me that He wanted me to pray on the side alone. As I went over to the side of the sanctuary I was caught up in a vision. I was on an elevated rock in this field and all around me there were Christians with demons on their backs. I said, "Lord what do you want me to do?" He replied "I want you to take your rod and wave it over them." I said," Lord could you give me confirmation on that?" Almost before I finished asking the question the confirmation came with complete assurance.
One of the brothers in a small group across the sanctuary raised his voice and prayed loudly, "Lord as Moses lifted the rod in the wilderness, we pray…" I had just received 100% go ahead and confirmation that I was seeing and hearing correctly. So I vigorously took my spiritual rod and began to wave it over the Christians in the vision. Then I began to weep in travail for what I was seeing. As soon as I began to wave the rod, these demons began to pop off like popcorn. It was a powerful time of warfare.
Shooting the arrows of the Lord's deliverance 
"And he said, Open the window eastward. And he opened it. Then Elisha said, Shoot. And he shot. And he said, the arrow of the Lord's deliverance, and the arrow of deliverance from Syria: for you shall smite the Syrians in Aphek, till you have consumed them." (2 Kings 13:17)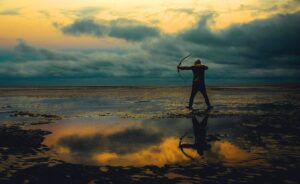 Another story of awesome confirmation happened on the trip to Ayutiya, Thailand that I previously mentioned. We had gone to several places to pray but one place seemed to draw our attention. We were staying at a hotel and I was rooming with a longtime friend of mine named Scott Sinclair. As we looked out our window, we couldn't help but notice the (hundreds of feet high) Wat-Phrasisanphet Temple outside. One day I said to Scott, "I think the Lord is giving me a strategy as to how to pray at that temple. I think God wants us to deal with…" Then I was startled as he finished my sentence for me. He said "foundations."  We knew we were on the right track. We asked the missionary if we could go there to pray. He said that would be good, but that he had never thought to take a team there before (our team was about the fourth to come). It was strange, considering the fact that this was the highest structure for miles, dominating the sky line. As we prayed about going, the Lord gave us this verse, "And he sent out arrows, and scattered them; lightning, and discomfited them. And the channels of the sea appeared; the foundations of the world were discovered, at the rebuking of the LORD, at the blast of the breath of his nostrils." (2 Samuel 22:15-16)
The Lord told us that he wanted four arrows in each corner of the foundation of this 700-year-old temple. So then one afternoon, we all paid our entrance fee to get in, looking like American tourists. The team broke up to look around and Scott and I went about to fulfill our mission. We had checked with the team leader and he had released us to do the strategy. We went to every corner of this temple that was surrounded by 20-foot statutes. At each corner I shot four spiritual arrows into the foundation of this evil place.  As I was shooting, Scott stood in front of me just off to the left side.  Later he told me that the Lord had given him a shield and that he was to protect me as I shot the arrows.
This sounds pretty strange, right? Well how did you think I felt playing spiritual Cowboys and Indians? If you think that is strange, wait until you hear what happened to us next.  As we were finishing up, we had circumvented the temple and were coming back around to the main entrance. Then this thought went through my brain, "If we are really accomplishing anything, we should be getting some resistance from the enemy by now." A few seconds after I thought that, a woman came in the main entrance and aggressively started hissing at us like a vicious animal. I intuitively knew that we were not to face her, so we walked away. I then literally felt a demon jump on my back. I said "I don't think so, get off in Jesus' name." The sensation left immediately.  I soon glanced around and saw that the spirit had jumped back on her. She went from hissing to acting completely incoherent as if she was high on drugs.
We then gathered outside with the rest of the team the Lord showed us that there were going to be Buddhist who would come to that place to give their offerings and when they did, they would look up and would have an open vision of Jesus.
Principal #5: You must be clothed in the mantle of humility.
"Likewise you younger people, submit yourselves to your elders. Yes, all of you be submissive to one another, and be clothed with humility, for God resists the proud, But gives grace to the humble." (1 Peter 5:5)
As we enter the arena of warfare, if we approach with any pride in our heart, we are in danger.  We must be clothed with the mantle of humility to not be open to attack. Pride is the very nature of Satan himself, and if we attempt to do warfare with the same motivation, he will have the advantage. I believe the mantle of humility is the undergarment for the armor of God. When we do onsite prayer with teams, I always have a time of actively putting on this mantle.
Principal #6: You must know the realms of authority.
Staying in the place of your authority is crucial to warfare. Another attribute of Satan we want to avoid is rebellion. We need to make sure we are submitting to God's appointed authorities over us. In spiritual warfare there is no room for renegade lone rangers.
It is also important to understand the different areas of life that God has granted us breakthrough. Rees Howells called this, "The gained place of intercession" (A specific area of victory). You may be anointed to pray in one area and not so much in another.  I have an anointing to pray for college students because it is one of the ongoing burdens that I carry.  You may have another area that God has given you great grace and authority to pray into.
This brings us to what I believe is the greatest "No No" in spiritual warfare.  
Principal #7: We are NOT to confront and rebuke directly principalities and powers.
"The heavens, even the heavens, are the LORD's: but the earth hath he given to the children of men." (Psalms 115:16)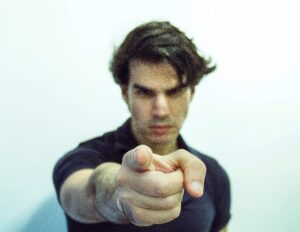 I do believe God wants to deal with these ruling spirits, but it will happen through a corporate anointing which releases the angels to fight. When they are in the air (second heaven) they are the Lords. When they touch earth, then we have all authority to bind and loose.
"Behold, I give unto you power to tread on serpents and scorpions, (earthly) and over all the power of the enemy: and nothing shall by any means hurt you." (Luke 10:19)
This is how John Paul Jackson put it in his book, "Needless Casualties of War.":  "Accordingly, Carlos Annacondia of Argentina had a principality show up in his room. He had authority to rebuke the principality because it came into our terrestrial arena; the sphere Jesus empowered us to extend His kingdom, rule and reign. When principalities or other demonic beings in the second heaven invade our earthly realm, we have power to rebuke them. However, we don't have the anointing or the authority to wage war in the heavenly realms. We've only been commissioned to subdue the Earth." 
I knew a man that, as he was praying, saw a vision of the main principality over the city where he lived. In presumption, he assumed he was to take on this spirit by himself.  So he stood toe to toe and rebuked the spirit. Over the next several years, I watched as this man went into, what appeared to be, strong pride and spiritual delusion. Later I asked God what happened to bring this on and He reminded me of the time this brother took on that spirit by himself. Please, let's be wise and not go there.
Someone might say, "Yeah, but how about those guys in South America who go into the city and confront principalities and powers and then God moves. What about them?" I would say,
"Yeah, they're called Apostles." Most of us are not going be operating at that level.
The Daniel 10 Model
"Then he said to me, 'Do not fear, Daniel, for from the first day that you set your heart to understand, and to humble yourself before your God, your words were heard; and I have come because of your words. But the prince of the kingdom of Persia withstood me twentyone days; and behold, Michael, one of the chief princes, came to help me, for I had been left alone there with the kings of Persia. Now I have come to make you understand what will happen to your people in the latter days, for the vision refers to many days yet to come.'" (Daniel 10:12-14)
Daniel interceded, which was his job, and the angels confronted the Prince of Persia (a principality). Our job is intercession and let God deal with and be concerned about the ruling spirits in the heavenly realms. Our intercession will enable those in the angelic realm to do war. Especially when praying for cities and regions, our part is to intercede.
What we are really talking about is called the principal of displacement.  As we intercede, we bring the light into the darkness and darkness is displaced and pushed out.
Principal #8: Do not go to places of obvious evil without a clear word from the Lord.
This principle goes along with the previous one, in that we just can't go anywhere simply because we think it's a good idea.  We must have confirmation to go and pray at a place of obvious evil.  Many have acted foolishly in this area.  I know of people who have gone to Masonic lodges, pagan festivals, places of false worship, places of sexual sin, and evil high places without a clear word, and have paid the price for it.  Now there are times that the Lord will send us into these places to pray, but it is only as we have a clear word with confirmation.  Also, we need to be submitted to local leadership, as well as have sufficient intercession cover for the prayer time.  God is all about invading enemy territory, but it has to be done right and done carefully.
In 2007 I was planning to take a team to Scotland to go to five city centers and rededicate the people of Scotland to the Lord. The year before, I went with a team to visit a place in Edinburgh called Calton Hill. This is the site where the Beltane Fire Festival is held every
April 30th. This is a pagan festival which celebrates the goddess of fertility. It is on par with
Baal worship of the Old Testament. When we visited the site in the middle of the day on that Saturday afternoon in 2006, I was feeling nauseous the entire time I was there. I remember telling a team member that I thought this was one of the most evil places I've ever been to.  I said to myself, "I sure hope I never have to come back here again."
However, as we began making plans for the 2007 trip, one of my friends in Edinburgh sent an email and said, "By the way, you are going to be here during the Beltane Fire Festival. We have an outreach team going into the festival with a large group of intercessors staying behind to pray for the outreach. I immediately heard the Lord say, "Yes you are going into the festival". Later that day it was confirmed by a scripture about false worship in the Old Testament.
When we got to Edinburgh, we met with the outreach team and a group of 150 intercessors who were remaining behind to pray. As I and one other from our American team went into the festival with the outreach team, we encountered many people there just to watch. But there were also many very serious pagans who were engaging in heinous false worship. There was a procession around the grounds and then we were told that many would gather in a certain area to finish the night, which was the most evil part of the event.
We had a sense from the Lord that they were trying to release the demonic spirits into the atmosphere over Edinburgh. My friend and I were instructed by the Lord to pray that the demons would be contained on the hill and not go into the atmosphere. I knew intuitively that it meant these demons were going to go home with these people and torment them. Very sad for them in their deception.
Almost immediately after we prayed, the group that we were told would stay in that one spot got up all at once, moved about 200 feet away and started in again. So we moved over with them and prayed the same prayer again. After that, the group just broke up and they all went their separate ways.
The Beltane Fire Festival had been averaging about 10,000 to 12,000 a year in attendance. I was told in 2010 that the few years after the 2007 outreach team went in, the festival attendance had dropped dramatically each year. We believe God was doing something. I believe many of those same pagans are going to have a revelation of Jesus and come to the Lord.
Principal #9: Intimacy is the most crucial element of warfare.
The most powerful lesson I have learned about warfare is the importance of just being in relationship and intimacy with Jesus. Then when He tells you to deal with the enemy, you do it with Him and have a terrific time doing it. The focus is always on Him and never only on what the enemy is doing. If we will stay in the center with Jesus, then we will destroy darkness and extend His kingdom in the earth. In these uncertain days we are living in, it is going to be very important to be "on the Lord's side". There is no other winning team in the universe.
"Then Moses stood in the gate of the camp, and said, who is on the LORD's side? Let him come unto me. And all the sons of Levi gathered themselves together unto him." (Exodus 32:26)
Final Thought – Not only is intimacy the most important factor in warfare, it is the foundation of intercession.  This is the reason that it is the topic of the final chapter of this book.  Join me as we look at our invitation to intimacy…
~~~