Praying for Justice, Restoration and Restitution – Full Message/Book Chapter
~~~If you would like to watch directly on YouTube go

here

.~~~
Below is a chapter from My Book: Fanning the Flames of Intercession.
Please check out the book here.
Praying for JRR is about asking God to return to you what the enemy has stolen. You have an invitation to go before the throne of God and ask him to do something about any area where the enemy has robbed from you, your family, your church or any situation where the enemy has got in.
I am about to share with you what I believe to be one of the most vital and important revelations I have received from the Lord about prayer. The reason I say that it is about prayer, and not just about intercession, is that it includes not just praying for others, but praying for ourselves as well. Nonetheless, it is an awesome and powerful tool in intercession.
This revelation has become a life message for me. If you were to ask me what one revelation, I would like to share with a group of people, this would be it. I have shared this message publicly numerous times. God has been using this revelation to touch many lives. I believe when the Holy Spirit teaches us and gives us revelation, it is not just so we can have the knowledge of something, it is so we can live in the life of it. This is how the Word of Christ dwells in us richly. This revelation didn't come as I sat quietly in my study. I lived it out as He showed it to me. Let me tell you the story…
The Prophetic "Oregon Trail" 
In the year 2000, Darla and I did a "one way vacation" across country with five children. We moved 3,000 miles from Springfield, Oregon to Asheville, North Carolina at the word of the Lord. Along with that word came numerous confirmations that this was God's path for us. I remember Pastor Frank Damazio talking to me when he heard that I was thinking about going.  He said, "You know, you have to have at least three major confirmations to make a move like this."  I said, "I have that." Then he said, "Okay, seven."  We both laughed.  We lived in Asheville for many years and it was an amazing adventure. In August of 2006, Darla and I, along with our youngest daughter, Jessica made plans to go back to Oregon for a visit and for Darla and I to attend our 30th high school class reunion in our home town of Cottage Grove.  We had planned to stay there about two weeks with my folks.
About three days before we left for Oregon, I was meeting with a group of intercessors in our church. They told me that they believed the Lord had shown them that I was going to receive some of my inheritance on this trip.  I told them that I wasn't aware of any, but I would be open.  The morning we were to leave for the airport, I was at the church praying. I was about to leave when the Lord impressed me to go into the church bookstore. When I went into the bookstore, He showed me a book that I was to take for the trip. The book was called, "The Books of Destiny" by Paul Keith Davis. Once on the plane, I began to read. Although the revelation of Justice, Restoration and Restitution (JRR for short) isn't directly given in this book, God did use it powerfully to get me on track for what was to come.
As I read the book, the Lord told me that He was going to highlight certain words and when He did, I was to write that word in my journal. The first word was justice. The Lord told me to remember that word, so I wrote it down. It was the same with the words restoration and restitution. I can show you in my journal where I first wrote those three words together.  It was a "kairos" moment for me. As we began our final approach to the Portland airport, the Lord began to speak to my heart. He said, "I have an assignment for you while you are in Oregon.  I want you to get up early each morning and go to the places I show you.  When you get there, I want you to ask Me for Justice, Restoration and Restitution for all that the enemy has stolen from you in that place."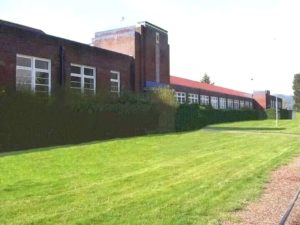 The first morning there I was wide awake at 5:30am. West coast time is three hours earlier than east coast, so it was easy to get up. I asked the Lord where He wanted me to go and He directed me to go to the place where my High School used to be. The building had been torn down and there was nothing but a soccer field now.  It didn't matter.  I prayed anyway.  I said, "Lord please, You are going to have to help me.  I don't exactly know what to do."  He said with a determined voice, "Just ask Me."  I asked, "Is it that simple?" He said, "It's that simple!"
I could remember many hard times in high school when the enemy tormented me with fear, inferiority and temptation. But on the other hand, it was during that time that I came to know Jesus. So I stood on that ground, early in the morning, and said for the first time, "Lord I ask for Justice, Restoration and Restitution for all that the enemy took from me in this place."  As I prayed I could feel God's power being released against the enemy. I could sense things breaking loose in the spiritual realm. It was awesome. Thus began the early morning adventures of going from place to place in the land of my youth.  I went to my grade school, my junior high, places that I had lived, wherever God would direct me to go.
The next part of the story involves, what is called, "Seeing in the Spirit."  I know it sounds a bit "New Age," but I believe they took the idea of seeing spiritual things from us.  Bill Johnson said, "Many of us have thought that the ability to see into the spiritual realm is more the result of a special gift than an unused potential of everyone."  
One morning I went to a place where I spent a lot of time in my twenties and early thirties. It was six o'clock in the morning and I asked the Lord what He wanted me to do. He told me to walk up to the front door.  Being early in the morning, I thought it unlikely that anyone would be around. I stood before the closed door and asked for Justice, Restoration and Restitution for all the enemy had stolen from me in that place.  He told me to look into the spiritual realm and see what was in the building.   As I closed my eyes and looked into the spiritual realm, I was aware of two angels standing with me.
Then I looked through the doors into the center of a large room. I saw there what appeared to be a glass museum display case.  Inside the case was a sword, a mantle and a pair of binoculars. I asked the Lord about what I was seeing and He said, "Those are yours. The enemy took them from you almost twenty years ago."  I said, "What do You want me to do."  He said, "Go get them."  So in my spiritual imagination, the two angels and I went through the front door into the center of the room. Then one of the angels went over to the case and ripped the glass cover off. I reached down and took the sword, the mantle and the binoculars. As I did, I became aware of angry demonic forces around us and the Lord said. "You need to leave this building now." Once back outside the door, the Lord said, "Get off the property now."  So within seconds I was back on the city street in front of the building.  The difference was that now I had the spiritual gifts of a sword, a mantle and binoculars that had been returned to me. The scope, magnitude and thrill of the adventure were increasing.
I know this may sound a bit strange, but I am telling you the story just as it happened.  I understand in telling stories, there is a tendency to embellish facts. In this telling I have endeavored not to do so. In this journey, my heart's cry was just to be led by the Holy Spirit.
I would like to tell you one more story. I took a drive out of town to a little community called London Springs, where I lived until I was thirteen. I stopped at a few places and prayed the prayer.  It was a great place to grow up, but there was some harsh times of fear and rejection the Lord wanted to deal with.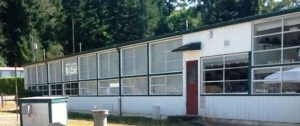 One of the places I stopped was my old elementary school.  As I walked to the playground I instantly remembered difficult times of having to deal with a couple of bullies in my school.  These guys were very useful to the enemy in allowing me to become fearful and self-doubting.  They definitely played a part in me developing an orphan mindset.  Our enemy has all the negative qualities of a bully.  He tries to intimidate us, instill fear in us and lie to us to get us to think that we are something less.  In dealing with a bully there are several possible courses of action.  One is to stand up to him and let him know that you will no longer submit to his abuse.  However the most likely solution is to go to a higher authority that can deal with and stop the bullying.  In JRR we are confronting the enemy and, at the same time, calling upon the ultimate authority to deal with the fear, the intimidation and the lies.
About the time I thought I was through, I heard the Lord encourage me to keep driving.  I was about 17 miles out of town, driving along what is called "Big River" when I heard the Holy Spirit say, "Stop."  I got out at a place along the river where we used to go swimming when I was a young child.  As I stood on the rocks next to the rapids I remembered the story that I was told about something that happened to me in that place.  At that very spot, when I was about two years old, I somehow fell into the water.  I began to float downstream, facedown like a piece of wood, when my Dad looked over and saw me.  He jumped in and pulled me out of the water and I took a deep breath and began to wail.  For many years after, I was very afraid of water. I asked the Holy Spirit why He was reminding me of this and He said, "The enemy tried to kill you at this place when you were two years old and there has been a spirit of death attached to your life ever since."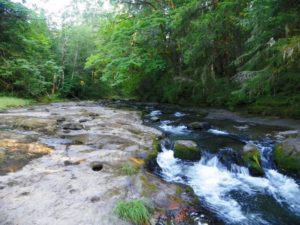 All of a sudden it was like all the lights came on. I thought of all the death I had experienced.  My fourteen year old brother, David, was killed on his motorcycle when I was sixteen. I didn't think about it until later, that I was supposed to be on the back of that motorcycle, but I changed my mind about going with him at the last second for no apparent reason.
Darla, and I went through having a stillbirth, four miscarriages and almost lost the two daughters we did have naturally during and immediately following their births.  I saw it clearly; the spirit of death had been ripping me off all my life. So I asked the Holy Spirit, "What should I do?"  And He said with an impassioned, determined voice, "Just ask Me!"  So through hot tears I asked for Justice, Restoration and Restitution for all that the enemy had stolen from me in that place. I could feel shock waves in the spirit. The spirit of death was totally defeated.  To this day I cannot share this story without being moved to tears.  Oh and by the way, the name of the swimming hole was called, "Dead Man's Hole."
Kristi's Story
Somehow, in that encounter by the river, I knew that if this spirit of death had not been dealt with, it would have been passed on in my family line.  It is most likely that our kids would've had trouble having children as well.  But something marvelous happened relating to our daughter Kristi, whom we adopted when she was 11 years old.  All of her childhood she wanted nothing more than to grow up someday and be a mother.  When she was a teenager, three doctors told her that she could never have children because of the abuse she suffered at the hands of her natural father.  This news ultimately caused her to rebel against God and eventually leave our home at the age of 17.  For several years she lived a very worldly lifestyle. She ended up in a relationship with a young man who also was a backslidden Christian.  During the relationship she became pregnant.  She knew that she was not supposed to be able to carry the child and was fearful of a miscarriage.  But the miscarriage never came.  She told us weeping on the phone that she was going to have a baby.  God restored her to Himself and to us.  Now, she is not only the mother of one child, but of three wonderful sons.  Three sons for the three doctors that told her she would never have children.  Of course, Dr. Jesus had yet to weigh in on that prognosis.  God is all about working in impossible situations to bring Justice, Restoration and Restitution.
An Unexpected Inheritance
 Remember the prophetic word from the intercessors that I had received before my Oregon trip? Well the last day of the trip, my mother came out with a box of old items that have been in the family for years. My parents gave me a bag of old coins and some cut glass jewels that came from Europe with my ancestors. The jewels are around 130 years old, and the oldest coin is from 1737. I believe these are a tangible sign from God to confirm the word of Justice, Restoration and Restitution.
Pre-emptive Wisdom
Before we look into how to pray for Justice, Restoration and Restitution, I think we need to say something about stopping the enemy before he gets started.  One of the mindsets we need to renounce is that which says "whatever the enemy dishes out we just have to accept it." We don't have to keep putting up with whatever he does in our lives.  God wants us to understand that when the enemy comes to steal, we can rise up and say no. In our everyday life we don't just lie down and let someone take from us and offer no resistance, do we? James said, "Therefore submit to God. Resist the devil and he will flee from you." (James 4:7)  Peter said, "Be sober, be vigilant; because your adversary the devil walks about like a roaring lion, seeking whom he may devour. Resist him…" (1Peter 5:8, 9)  I believe if we have an opportunity to resist the enemy, we should.  But often times he has stolen from us almost before we are aware of it. If we find ourselves having been stolen from, the good news is that we can do something about it.  We can ask the Lord for justice.
 "The thief does not come except to steal, and to kill, and to destroy. I have come that they may have life, and that they may have it more abundantly."  (John 10:10)
The Lords Justice
To fully grasp this revelation, we must have an understanding of the Lord's justice.  When we talk about the justice of God, we need to picture in our mind two settings in heaven.  The first is a courtroom setting and the second is the throne room of God. In the natural world there are many who have injustice forced upon them and they have no recourse. In the kingdom of God, one of the benefits we have is that we can bring our case before the courtroom of heaven.  We have an invitation to come boldly and cast our cares before the heavenly judge who is also the king of the universe.  God loves you so much that, not only does He know about the enemy stealing from you, He is very passionate about doing something about it.
Hebrews 4:16 invites us to; "come boldly to the throne of grace, that we may obtain mercy and find grace to help in time of need." We have an invitation to have an audience with, not only our just judge, but our great king.  He has all authority to do something about the injustice that the enemy has wrought in our lives and the lives of others.  The throne we are invited to is the throne of grace. The word "grace" in the Greek here is "charis." By definition we are called to the throne of His gratifying graciousness manifested through the divine influence upon the heart. It is the throne of His acceptance, benefit, favor, gift, joy, liberality, pleasure, thanksgiving and worthiness.
Justice begins with a Ruling from the Bench
"I was watching; and the same horn was making war against the saints, and prevailing against them, until the Ancient of Days came, and a judgment was made in favor of the saints of the Most High, and the time came for the saints to possess the kingdom." (Daniel 7:21-22)
"Then the one who had been living forever came and pronounced judgment in favor of the people of the Supreme God. The time had arrived for God's people to receive royal power." (Daniel 7:22 GNB)
The word judgment is from the Hebrew words dîyndûn, which means to rule, by implication, to judge (as umpire); and mishpâṭ which means properly a verdict (favorable or unfavorable) pronounced judicially. (Strong's) One scene is a judge, after hearing all the evidence, making a ruling from the bench and handing down a verdict.  Another scene is a king who makes a decree and, when He speaks, it is law and must be carried out.
In JRR we go before the judge of heaven and bring our case.  He then rules in our favor as the gavel comes down and justice is rendered.
"And he shall judge the world in righteousness; he shall minister judgment to the people in uprightness." (Psalms 9:8)
Judgment and Justice 
 The words judgment and justice appear side by side in scripture twenty times. Judgment is that which ushers in justice. There cannot be one without the other. In scripture justice means being brought into rightness. In Webster's Dictionary it means "The virtue which consists in giving to everyone what is his due." This is demonstrated in these verses:
"Behold, the days come, saith the LORD, that I will raise unto David a righteous Branch, and a King shall reign and prosper, and shall execute judgment and justice in the earth." (Jeremiah 23:5 KJV)
"I, the LORD, love justice! But I hate robbery and injustice. My people, I solemnly promise to reward you with an eternal agreement." (Isaiah 61:8)
Established in God's Throne
 The justice of God is so much a part of His nature that it constitutes the substance of the throne. God rules from His throne in justice. That is the reason no human being can shake their fists at God and accuse Him of being unjust. If we ever think God is unjust, it is only because we can't see the whole picture. It is guaranteed that there will be absolute justice on every spirit of darkness for their thievery and destruction on mankind.
     "Righteousness and justice are the foundation of Your throne; Mercy and truth go before Your face." (Psalms 89:14)
"Clouds and darkness are round about him: Righteousness and justice are the foundation of his throne." (Psalms 97:2 ASV)
Here is a quote from "Books of Destiny" by Paul Keith Davis:
"We have not fully embraced the justice of heaven because we do not understand its absolute application.  However, the Lord's justice will unleash an end-time army of believers equipped with the resources of heaven.  When He reveals Himself as the Just Judge, a verdict will be rendered in favor of the saints.  All valuable callings, anointings, commissions and gifts entrusted to God's people throughout the ages will be restored and redeemed. Divine justice renders blessings on behalf of the righteous and judgment upon unrighteousness.  Justice restores what has been stolen and compensates the victim when the thief has been captured.  Almost every believer can testify that he or she has been stolen from. For many, their children and family members have been inflicted with illnesses and hardships.  Others have had finances devoured.  Much of the spiritual inheritance entrusted to God's people has been unlawfully taken.  Precious ministry gifts and spiritual anointings have been lost through incursions of demonic 'bandits'.  He will recover and amplify everything the enemy has attempted to devour and destroy."
In the natural, all of us probably remember a time when someone stole from us or destroyed something that was ours.  Remember how it made you feel when you realized you had been stolen from.  Of all the emotions, such as anger or sadness, the feeling that we probably remember the most is a strong sense of injustice. Let's take it to another level.  It is one thing if you steal from me but another thing altogether if you steal from one of my kids.  This is what God's heart is like in your situation.  He strongly desires to bring justice, restoration and restitution into the areas of life where the enemy has stolen from you.  God's heart is stirred about the stealing and killing and destroying that the enemy has been up to in your life.  He is not only willing, but is extremely able to do something about it.
The End Result of Justice – a Process in Order
 Ultimately, when justice is accomplished it brings two primary outcomes. When the ruling is given, it opens the way for restoration and restitution.  Once, when I was praying this prayer out, I got the order wrong, I said, "Lord I ask for justice, restitution and restoration.  The Holy Spirit said "Stop, you have to get the order right. It is Justice, Restoration and Restitution."
For a while I didn't understand why. But now I know it is because those three words describe a whole, completed process. It is not enough just to ask for justice. I have heard a lot of people pray for the justice of God, but it is just the first step.  We must see it through to the end, which is restitution. Have you ever heard of a court situation where someone receives a judgment that they will have "x" amount of dollars paid to them, and for some reason they never seem to get paid?  Whether it is because of endless appeals, or the other party files for bankruptcy, something happens. In our earthly courts, the judge leaves it up to someone else to make sure the money is paid.
In the heavenly court, the judge Himself directly oversees the reacquisition of what was stolen.  This judge, our Father God, also personally demands that the caught thief repay us seven times the value. He takes back that which was originally stolen (Restoration) and demands repayment of seven times the value of that which was original stolen. (Restitution)  This is the equation:
Justice + Restoration + Restitution = Reacquisition of the Original x 7
"Men do not despise a thief, if he steals to satisfy his soul when he is hungry; But if he be found, he shall restore sevenfold; he shall give all the substance of his house."  (Proverbs 6:30-31)
"And I will restore to you the years that the locust hath eaten." (Joel 2:25)
"Dearly beloved, avenge not yourselves, but rather give place unto wrath: for it is written, Vengeance is mine; I will repay, says the Lord." (Romans 12:19)
"Strengthen the weak hands, And make firm the feeble knees. Say to those who are fearful-hearted, Be strong, do not fear! Behold, your God will come with vengeance, with the recompense of God; He will come and save you." (Isaiah 35:3-4)
"Energize the limp hands, strengthen the rubbery knees. Tell fearful souls, 'Courage! Take heart! God is here, right here, on his way to put things right and redress all wrongs.  He's on his way! He'll save you!' " (Isaiah 35:3-4 Message)
This revelation of Justice, Restoration and Restitution deals directly with demonic larceny against human kind. As we pray, the "thief is caught" and God reacquires and releases the seven-fold blessing of that which was taken. There has been so much the enemy has stolen, and I believe God, in His justice and His love for His children, wants it returned. God wants us to ask Him to restore and bring restitution. One of our big problems is that, typically, we just don't ask God for much.  We might have shame, inferiority or an orphan mindset.  But often we just don't ask. Actually, many of us have been trained not to ask. How many of you, as you were growing up, were told, "Now when you go over to the neighbor's house, don't be asking for things."  We are trained not to go and look in their refrigerator or rifle through their cupboards. And rightly so; nothing is more bothersome than a neighbor kid who is always asking for something. The problem arises, though, when we see ourselves as a visitor in God's house instead of one of His kids. I don't know about you, but my kids don't hesitate to ask me for something they want. God wants, wants, wants, and wants us to ask him for Justice, Restoration and Restitution.
Restoration is defined in scripture as: to turn back, return to the starting point, to be safe, completed, make amends, to ascend, to reconstitute, to give up, give over, give back, complete thoroughly and repair. In Webster's it is defined: to return to a person, as a specific thing which he has lost, or which has been taken from him and unjustly detained. We restore lost or stolen goods to the owner.
Restitution is defined in scripture as: compensation, reconstitution (in health, home or organization) In Webster's it is defined: The act of making good, or of giving an equivalent for any loss, damage or injury. Then as we pray, if it comes out of our heart of total surrender to His will, it will also release an upwards of a 100 fold blessing.
"And Jesus answered and said, Verily I say unto you, There is no man that hath left house, or brethren, or sisters, or father, or mother, or wife, or children, or lands, for my sake, and the gospel's, But he shall receive a hundredfold now in this time, houses, and brethren, and sisters, and mothers, and children, and lands, with persecutions; and in the world to come eternal life." (Mark 10:29-30)
Going Into the Enemy's Camp
Back in the 90s, we used to sing a worship chorus called, "Enemy's Camp."  The lyrics go like this:
Well, I went to the enemy's camp and
I took back what he stole from me. 
This is a great song and I have nothing to say against it.  I would like to suggest, however, that instead of me going into the enemy's camp to get my stuff back, how about God Himself going in to retrieve it for me.  If the enemy stole an apple from me, so to speak, and I went and took it back, the apple will probably have a worm in it, if you know what I mean.  I would much rather have God, with all the legal backing of heaven, go and reacquire that which was stolen, check it all out and then come and give it to me, increased by seven times.  
Is there a Limit?
You can apply this prayer to any area of life. The possibilities are endless. I heard someone once say, "The enemy hates you and has a terrible plan for your life."  Anything the enemy has stolen, we can pray and ask God to have it returned. These are some of the areas you can pray for:
Relationships
Family members – family lines, back-slidden family members
Healing – physical, emotional, mental
Finances
Callings, Ministries, Mantles
Dreams about your Destiny
Churches, Cities, Nations
Salvation for the lost
 Releasing Amazing Benefits
One of the first fruits of this prayer is the manifestation of actual blessings in the physical realm.  It's not about wishful praying with little expectation of anything changing.  It's about praying in faith and standing there until the answer is fully manifested.
When I prayed this prayer in Oregon, I received physical confirmation of the spiritual truth. Jesus said, "When you pray and ask for something, believe that you have received it, and you will be given whatever you ask for." (Mark 11:24 GNB)
The next benefit of this prayer is healed memories and emotions related to the incident.  After about a week of praying this prayer in Cottage Grove, Oregon, I asked Darla one day, "Does it feel different to you being here this time?"  She said, "Yes, it feels really good.  It's amazing."  I told her that after I would pray at a place, I was having a difficult time remembering the bad things related to that place in my past.  It even felt as though the entire atmosphere of the town had changed.
The reigning demonic force over my home town has been the spirit of division. There have been loads of churches that were splits off of splits off of splits.  Back in the 1800s the townspeople would feud and shoot at each other across the river.  There is actually a river there named "The Row River."  It was named after a "row" between two brothers-in-law which ended in murder.  By this prayer, not only can God heal our memories, but He can change the very atmosphere of a place.
Then one day the Lord asked me this question, "What do you get when you shorten each of those words, Justice Restoration Restitution? What you get is Just Rest Rest.  The stress, turmoil, worry, anxiety, anger and resentment that many of these issues have caused has been almost overwhelming at times. God wants to release great rest into our lives and bring to an end us living under the heavy load of the enemy's emotional baggage.  As this prayer is activated in your life, God brings with it great rest and peace. Many of God's people are laboring under a heavy weight placed there by an evil task master.
Much of my early days as a believer, I walked around with a knot of religious expectation in my gut.  Today if I get a knot in my stomach, I stop and ask the Holy Spirit what is going on so we can deal with it. Our portion on earth should be love, joy, peace and rest.  
"There remains therefore a rest to the people of God. For he that is entered into his rest, he also hath ceased from his own works, as God did from his. Let us labor therefore to enter into that rest, lest any man fall after the same example of unbelief." (Hebrews 4:9-11)
How Is It Released?
In Justice, there is a release of faith required on our part, and a manifestation of the Father in declaring justice in the matter.  In Restoration, there is a requirement of trust on our part, and a manifestation of Jesus in His restoring work of the Cross. Then in Restitution, obedience is required of us with a manifestation of the Holy Spirit working in our lives to bring restitution.  This prayer is not a formula, but is released out of our relationship with the Father, the Son and the Holy Spirit.
Justice – Faith – Father
Restoration – Trust – Son
Restitution – Obedience – Holy Spirit
One day as I was praying this prayer, this phrase kept coming up as an "Amen" to the prayer… I said, "Lord let it be wholly, completely brought forth and released."
An Essential Component: Forgiveness
As I said before, for this process to work effectively we must be led by the Holy Spirit. To run out on our own can be fruitless and possibly dangerous.  The first thing to be aware of is this; this process will not work if you do not forgive every person involved.  I remember going to one of the places to pray JRR and I began to feel some of the past resentment coming back. The Holy Spirit spoke to me, "For this prayer to work you must forgive everyone involved.  You are never to pray Justice, Restoration and Restitution against any human being." To do so would be leveling a word curse against the person and would be equal with performing witchcraft. The next thing is that there is no room for fear, doubt or unbelief in this process. We must believe that God loves us and wants to answer our prayers.
Being Led by the Spirit
The key to effectively releasing this prayer is to be led by the Spirit. He will reveal the specific areas of our lives where the enemy has robbed from us. It is very important we understand that not everything bad that happens is from the enemy.  There are often hard things the Lord allows in our lives to test us and purify us.  But when the Lord reveals that it is definitely a work of the enemy, it is then we can ask Him for JRR with confidence.
Ask the Lord, where the places are He wants you to go and pray this prayer.  If you can't actually travel to those places, just pray it out where you are. You do not have to strive in hearing the Lord about where to go and what to pray.  It usually comes easy as we just submit to the Holy Spirit. If you have any questions about the Spirit's leading, wait for clarity and ask for confirmation. Here is a sample of how this prayer could be prayed. I have given this out as a card that many people keep in their Bible.  Also, it is great to have on hand for praying in the Healing Rooms or in other ministry settings.
Praying Justice, Restoration And Restitution
Lord, in this situation, I ask for your JUSTICE (Daniel 7:22)
Lord, I ask you to bring RESTORATION (Joel 2:25)
Lord, I ask you to release RESTITUTION (Acts 3:21)
Lord, I forgive any people involved (Matthew 6:14)
Lord, I ask back 7 times what was stolen (Proverbs 6:31)
Lord, I ask to only remember the good (Philippians 4:8)
Lord, I ask you to release JUST, REST, REST (Hebrews 4:9)
An Ongoing Blessing – JRR Testimonies
Since that trip to Oregon, I have prayed this prayer many times and shared the revelation with anyone who would listen.  I have also received great reports of people who heard this message and, following the Spirit, went to places and prayed this prayer, and God moved powerfully.  I heard one brother say that he prayed this prayer over a broken relationship and the relationship was restored to a place that, in his opinion, is seven times greater. It is powerful in intercession and hardly a day goes by that I don't pray it.
I was preparing to preach a word about Israel at a festival in Moravian Falls, North Carolina, when the Lord asked me how this word would apply to Israel and I was taken back.  He showed me that Israel is barraged with possibly millions of word curses every day from the Muslim world.  As I brought the word, I had everyone join me in praying Justice, Restoration and Restitution for Israel.
One of the things about this process is that God wants to unravel and undo the plans and plots of the enemy in our lives.  This is demonstrated in the story of my good friend, Randall Martin, who upon hearing this revelation, asked the Lord where he was to go to pray it out.  The Lord spoke to his heart and told him that he was to go to his high school and stand on the grounds and pray.  Then the Lord told him something a bit unusual.  He said that He was going to unravel all the work that the enemy had done in his life in that place, and as a prophetic demonstration of that, He wanted him to march around his high school backwards.  This process is not a formula, but is birthed out of a relationship with the Holy Spirit.  So Randall began to walk backwards, but felt foolish and stopped.  Then the Lord said to him, "This is something that I want to do in your life, but it's up to you." So he responded to the Lord in faith and walked the entire circumference of his high school backwards.  This may appear foolish in the natural realm, but in the spirit realm the Lord was unraveling and undoing the work of the enemy in his life.
Several years ago, another couple heard me preach this message and heard the Lord say that they were to pray about the fact that a spirit of poverty had somehow gotten into the family line.  They went to the cemetery where their wealthy ancestors were buried and prayed out the prayer.  A short time later they were going through some papers in the basement and a $10,000 bond fell out.  This was something that they didn't even know they had.
One story that shows how the Spirit is using this message came just a few days after I had shared the JRR message at a recovery home group. I received the following e-mail:
Hello Mike,
I wanted to tell you what happened last Mon. I was asked to share my testimony at a drug awareness class. I had no idea where it was. I got directions and proceeded to go. As I drove I asked God to give me peace because I was so nervous. As I turned on the road where the church is that they hold the meeting, I was shocked to see it was the very church parking lot where 7 years ago I parked my car to buy drugs from a trailer behind the church!
My heart began pounding. My thoughts began to race. I cried out to God. I can't believe I'm here again. I don't want to be here. A still small voice inside me said "justice, restoration and restitution". I began to pray the prayer you came to the house and shared. I mustered up the courage to walk into that church and gave my testimony. It's really all a blur.
After the meeting, the man who had asked me to come share came up to me.  I had talked about being right there using drugs some 7 years ago. He thanked me for coming. Then said, " That man sitting in the third row at the meeting was the same man who lived in the trailer and sold you dope! He may still be dealing but not in our community. Your story had to affect him!" I immediately thanked God for this divine appointment. Whether it was for that dealer, I cannot say. But I can say that what Satan robbed me of that day 7 years ago, God fully restored to me the instant I prayed the prayer. Thank YOU for hearing the voice inside you that said to come to our house and share that message. God was and is using it to HIS Glory!
Beth 
One of the great privileges of our time living in Scotland was to go and do on-site prayer and preach on the Isle of Lewis.  We went to various places on the island and prayed during the day and were teaching, for the first time, what eventually became the Burning Heart's School of Intercession, in the evenings.  We were holding meetings in the town of Barvas, less than a quarter mile from the church where the Hebrides revival broke out in 1949.
After the first evening meeting, I had the honor of meeting a woman named Christine.  She had been sent to the island of Lewis as an intercessor from England.  She would walk the beach and her prayers were shaking the island as God was moving powerfully through her intercession.  Some things happened and the enemy got in and brought a man into her life that caused her to shut down her intercessory gift completely for four years.  This is where she was at on that first night. Here is the rest of the story in her own words:
So this was really where I was at the end of July when you visited Lewis.  Dave had spoken to me on the Sunday morning and told me about the meetings and all of a sudden I was desperate to be there.  Desperate and scared witless!!
The first evening I was an embarrassed, ashamed, unspiritual, pathetic useless feeble no good Christian hiding behind a smile!  The Lord just took me apart, bit by bit by bit – that's the only way I can describe it, and I am so very, very grateful to Him and to you for putting those bits back together at the end of the evening and leaving me to drive home quite literally shaking with hope.
By the end of the third evening I knew exactly where I had to go back to pray the justice, restoration, restitution prayer, but I was going away on holiday the following day so it had to wait for a fortnight!
At the first opportunity when I got back, I drove over to the area I used to live and visited every single place where I'd had contact with his man.  I felt it would be wrong to dwell on it in my mind or let it become any sort of nostalgia trip, so I didn't spend long in any one place – just kind of prayed and left, then, in the spirit gathered it all up in a big bundle and headed for my praying beach where I hit it all properly!
I don't quite know what I expected to happen.  I think often we hear about other peoples' experiences and expect God to follow the same pattern, then get disappointed when He doesn't.  I came away from the beach wondering exactly what had taken place – there'd been no great experience, no flashing lights.  If I'm honest, I only knew He'd done something because He'd said He would – that was all. 
 But …………..How awesome have these last 2 months been?!!!!!!!  I doubt I can put it into words properly!
One of the first things the enemy had nicked off me those years ago was the intimacy with God as Father – that is soooo being restored.  The other big one was being able to intercede without fear; he stole that one big style.  But wow, how much is that changing and changing and changing.
I have never known anything like this – there's so much clarity, so much purpose, I'm just gobsmacked.  (A british term for astounded)  He's showing me what to pray, giving me the words, showing me stuff that's happening spiritually like I'd never have dreamed of.  I'm just bursting with it all (and the grammar's going out the window!)
Thank you so much for coming up to Lewis and the teaching you brought.  It has quite literally turned me around.
Hugs
Christine
What God did in Christine's life was so dramatic that when she heard that we were doing our first official Burning Heart's School of Intercession in Glasgow some months later, she couldn't wait to travel three hours on a ferry and drive 4 1/2 hours to get to Glasgow to join us .  Not only that, but over the next year she traveled to Glasgow to assist us two more times in the school.  She has been a great blessing to the ministry.  Moving to Scotland to see God transform one life like Christine's makes it worth everything.
One of the most dramatic JRR testimonies has to do with my own kids.  About a year after I received this revelation, Darla and I returned to Oregon with three of our daughters.  We felt we were to take a day and just let the Holy Spirit lead them to where they were to pray JRR.  We went to many places that were rather dramatic.  One place was the hospital where my oldest daughter Erin was born, before spending the first two weeks of her life in a neonatal intensive care unit.  She was born with Double Strep Pneumonia and was given only a 5% chance to live.  God intervened and completely healed her.  You could feel the spirit of death in the place and then, all of a sudden the atmosphere changed and she began to get better.  We went back to the very place and prayed JRR for what the enemy tried to do.
Another place we went was a church where all of us, as a family, had gone through a very difficult time.  As we pulled into the parking lot, the three girls began to panic.  They said, "Mom and Dad, we don't want to be here."  We encouraged them to just stay for a few minutes and they agreed.  We sat in the van and prayed the prayer out with much emotion and many tears.  While we were praying a woman came and asked us if we needed something.  She was the pastor's wife of the church that was currently using the building.  We told her who we were and that we also used to live in the house on the church grounds.  She asked us if we would like to look around.  As we looked around the grounds and went into the sanctuary, we saw the countenances of our daughters change in front of our very eyes.
Even though they were in their late teens and early 20s at the time, they begin to laugh and play like little girls.  They would say to each other, "Remember when we did this and had this great time."  We could feel the presence of the Lord in the place and it was apparent that God was doing something.  It was as if all the bad memories had been washed away and they were only remembering the good times that they had in that place.  They were being overwhelmed with the emotion of good memories of things that had happened there.  God did a tremendous healing in our girls on that day.  Thank you, Jesus.
Final Thought 
The message of praying for justice, restoration and restitution has been something that God has been using powerfully around the world.   Although many people pray for themselves and their families, it is also a powerful tool in intercession.  Praying for families, the lost, cities and nations where the enemy has been at work is what makes JRR so needed in the realms of intercession.  I encourage you to make it a regular part of your personal and corporate intercession times.  God also wants you personally to be fully equipped for all He is calling you to.  Do not hesitate to pray JRR over yourself and your loved ones.  God has a great desire to move in your life and situation.