The Keys of Honor
I believe the Lord is distributing keys to the body of Christ to release a Spirit of Honor in the church and in the nation. God wants to give us keys that will access the Spirit of Honor that is a part of the culture of heaven, and declare it released into our world.
First in His Body
The Spirit of honor in the body of Christ will deal especially with how we speak to and about one another. God, as a father, is not unlike earthly parents who really want their children to get along with one another. We need to endeavor to speak only well and good to and about one another, which releases honor throughout His body.
When I was a child, I often heard the phrase, "If you don't have anything nice to say, don't say anything at all." I believe this can also be stated, "If we don't have anything honoring to say, then let's say nothing at all." We should only speak blessing over other movements, other churches and other believers. Bill Johnson said it this way; "Honor is where you recognize who a person is, without stumbling over who they are not."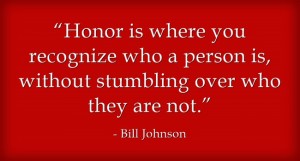 Instead of focusing on what's wrong with each other, I believe the Lord would have us focus on the positive.
Of course, there is a New Testament mandate for local leaders to confront of those bringing error and division in the body. But that's not the same as speaking against those whom we do not know and have never met. There are those who would use the Internet in various ways; blogs, websites etc. to name names and tear down and slander other members of the body of Christ. Not only to these people feel justified in what they are doing, they believe they are called and anointed to do it. This should not be so.
I was preaching at a conference in Ireland on the subject of honor. I said, "It is okay and right to point out false teaching in the body of Christ, but when we start naming names, we have crossed a line." Then a man spoke up in the back of the sanctuary and said, "Well the Apostle John in 3 John was naming names." I said, "That's right, and you better be moving at that level of apostolic authority if you think you are going to do that."
This could be some of the very things that are hindering our prayers and holding up revival. In Isaiah 58:9 the Lord declares that he will answer when we remove the pointing of the finger.
"Then you shall call, and the LORD will answer; You shall cry, and He will say, 'Here I am.' "If you take away the yoke from your midst, The pointing of the finger, and speaking wickedness," NKJV
This is what it says in Titus 3:1-2; "Remind them to be subject to rulers and authorities, to obey, to be ready for every good work, to speak evil of no one, to be peaceable, gentle, showing all humility to all men." NKJV
I believe this is also what James is dealing with in James 3:10. "Out of the same mouth proceed blessing and cursing. My brethren, these things ought not to be so." NKJV
Honoring People
I believe the Lord is indicating that we need to take time to honor people properly. We've heard a lot about honoring God and honoring leadership, which is right and true. I believe the Lord is emphasizing a need to honor everyone. In Romans 12:10, the emphasis is on honoring everyone in the body of Christ. "Be kindly affectionate to one another with brotherly love, in honor giving preference to one another;" (NKJV)
1 Peter 2:17 says to "honor all people." (NKJV)

The apostle Paul says we should even give greater honor to those who seem to have less in the body of Christ. "And those members of the body which we think to be less honorable, on these we bestow greater honor; and our unpresentable parts have greater modesty." (I Corinthians 12:23 NKJV)
"On the contrary, those parts of the body which have no obvious function are the more essential to health: and to those parts of the body which seem to us to be less deserving of notice we have to allow the highest honor of function. The parts which do not look beautiful have a deeper beauty in the work they do, while the parts which look beautiful may not be at all essential to life! But God has harmonized the whole body by giving importance of function to the parts which lack apparent importance, that the body should work together as a whole with all the members in sympathetic relationship with one another." (1 Corinthians 12:23 J.B. Phillips New Testament)
I remember a number of years ago when I was an associate pastor, one of the guys in the church who came in the office one day. He was a single man who did not seem to have a lot going on and did not seem to have a lot of gifts or talents. He was faithful, but that seemed to be about it. As he came into the office, he told me that he wanted to show me something. Then he unveiled a soapstone sculpture of the hands of God cradling an unborn baby. As I gazed at this piece of art the hair on both arms stood up and a chill ran down my spine. This sculpture had the anointing of the Holy Spirit all over it. I said to him, "Did you make this?" He said, "Yes. I just made it and I wanted to show it to you. " I said," That's incredible. I had no idea that you had that kind of a gift." He said he planned to donate it to a pro-life organization. How many times has someone like this, who seemed to not have a lot going it is just shuffled to the side and marginalized? The Bible says we must give these ones double honor. In other words, God's standard for honoring is not necessarily this worlds standard. The world honors performance, achievement, appearance and talent. God's standard for honoring is quite different.
Societal Change
I believe what the Lord wants to do is to transcend beyond the church to touch our nation. As we access the Spirit of Honor, I believe there will be a change in the fabric of how people relate to one another. I believe people will be arrested in mid-sentence as they are beginning to put someone down; they will, in turn, speak blessing. Whether talking about a political leader, a neighbor or a boss, they will find it hard to bring a slanderous critical word. Please join me in praying for the transforming work of the Holy Spirit manifesting as the Spirit of Honor in our nation.
Let's actively speak blessing, pray and declare, and believe God to release a Spirit of Honor that will truly make a difference.
By Mike Bachelder