Winning Personal Battles
By Mike Bachelder
~~Be sure to watch the corresponding short videos at the end of the article.~~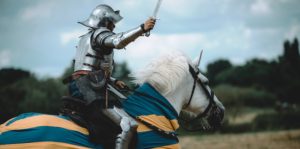 One of the reasons a good number of Christians never enter the realms of intercession is because it is all they can do to win their own battles against the world, the flesh and the devil.  We all have personal struggles that we are dealing with in our lives and if that is where you are, that's okay.  But what we really need is believers who can, not only win their own battles, but then go on to pray for and minister, others so that they can win great victories and advance as well.
When Israel was about to enter the Promised Land, there were 2 1/2 tribes that came to Moses asking if they can have their inheritance on the east side of the Jordan.  He said they could, but first they would have to go into the Promised Land and fight for the brethren. (Numbers 32) We need people who can effectively wage war in intercession on the behalf of others, but first we must learn how to win your own battles.
WINNING "YOUR" PERSONAL BATTLES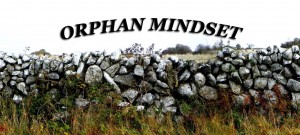 For many years I struggled with severe inferiority and rejection issues.  This caused me to doubt God's ability and willingness to come through in my life, especially relating to my call to serve God.  I was bound by "orphan" thinking.  There was a time that I strongly believed that God was calling me to bring a team of intercessors to Scotland.  The enemy began to challenge me on this at a time when I was vulnerable. It was when I was away on a mission trip and the airplane flight had aggravated an abscess tooth.  I was in great pain because of the tooth, but at the same time was under an extremely heavy demonic mental attack.  The enemy was saying to me over and over, "You are never going to Scotland, you will never pray there, you will never preach there, never, never, never, never."  I had been under this mental attack for around three days and it was so bad that I was beginning waver in my faith and believed the lie.  Just before a Sunday night meeting I asked the mission team if they could pray for my tooth, I did not tell them about the mental attack.  Suddenly a lady on the team gasped and looked at me with a shocked look.  She said, "I just heard the audible voice of God."  He said, "tell him that all I have promised I will do." That prophetic word completely defeated the mental attack that I was under.  It was as if that promise had become a weapon for me to fight the enemy with.
About two weeks later the enemy came around with that same lie, but this time I had a different response.  I said. "Oh really, I have a word to the Lord that says, all he has promised he will do."  It was as if I took that word like a sword and cut the enemies head off with it.  Amazingly, the enemy never tried to attack me in that way again. By the way, since then I have been to Scotland eight times and am now living there.  The enemy was wrong again
THE WORD AS A WEAPON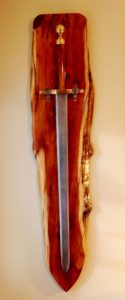 Jesus used this same strategy in Matthew 4 to defeat Satan.  He just declared the word of the Lord and won the victory.  A verse that clearly describes the strategy of clearing the Word of God over your life and your issues is 1 Timothy 1:18 "This charge I commit to you, son Timothy, according to the prophecies (words from the Lord) previously made concerning you, that by them you may wage the good warfare."  
The Greek word for prophecies is propheteia which means; prophecy scriptural  or other.  Obviously this verse would apply to prophetic words that one has received, but it also means that we can apply specific verses from scripture to our issues, declare them in faith and see God bring tremendous change.
In Ephesians 6:17 The Word of God is described as a sword; and the sword of the Spirit, which is the Word of God. The Greek word for "Word" is "rhema" which means – a present tense personal word from God. The Word is also called a sword in Hebrews 4:12  For the word of God is living and powerful, and sharper than any two-edged sword, piercing even to the division of soul and spirit, and of joints and marrow, and is a discerner of the thoughts and intents of the heart. In the battle against our struggles and issues, isn't it great that God has given us such a powerful weapon to fight with. The Greek word for "Word" in this verse is "logos" which means – the general written Word of God.  I believe we can take both prophetic words we have received plus specific verses about our issue and fight with them.
Whenever we are battling, if we take the Word and declared it over ourselves, the enemy will have no choice but to flee.  It is not a selfish thing to speak the Word over ourselves. However, we must be focused and determined declaring the Word with authority.
For example, if you struggle with fear you can take a verse like 2 Timothy 1:7 and pray a prayer like; "I declare in Jesus name that God has not given me a spirit of fear, but of power and of love and of a sound mind." Or if you deal with depression you can pray Isaiah 35:10 something like "I declare in Jesus name that I will not be depressed because I have obtained joy and gladness, and sorrow and sighing shall flee away."  If inferiority, low self esteem and orphan mindset thinking is your struggle, then in pray declare a release of the Spirit of adoption in your life.  (Romans 8:15-17)
Some might say, "It is not that simple. I am dealing with serious issues that a have had for years." I don't see this as a quick fix but the beginning of a process. Much of our problem is that we have been reinforcing our issues with negative speech about ourselves. If we speak the Word instead, I think we will see things change dramatically. Again some might say, "Yeah but what do I do if I stumble and fall back into my issue? You get back up, ask and receive forgiveness and start in again "speaking the truth" over yourself.
FREEDOM FROM REJECTION DECLARATIONS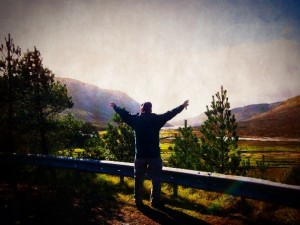 The effects of rejection is something can stay with us for years. Jesus strongly desires to heal us from such wounds by enabling us to forgive.
Here are some declarations you can speak over your life each day that can begin the healing process and get you pointed in the right direction.
I am loved and my identity is in Jesus.
I am free from rejection and I am fully accepted.
Rejection no longer has a voice in my life.
My need for love and affirmation is completely for fulfilled in the Father's love.
I am not abandoned and I have no fear of being abandoned.
I am healed and restored of any mental issues.
I will not jealous or envious but happy and fulfilled.
I'm not the backup plan or just a substitute. I am chosen first.
I am forgiven and I choose to forgive.
I am not an orphan, but I have received the Spirit of adoption.
FIGHTING FOR OTHERS
As you begin to overcome in the areas of your own, then you will be able to pray and declare God's victory over others. One of the definitions for "intercession" is – Focused prayer for others. Whether it is praying for family, friends or others God would put on our heart, we can fight for them in prayer and see God do tremendous things in their lives as well.
Here is Part 1
Here is Part 2