AUGUST 2015 NEWSLETTER
Hello Dear Friends and Family,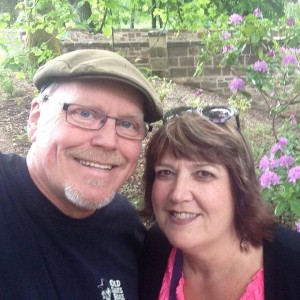 It has been a very busy summer for us so far. On Father's Day in June, we embarked on a 23 day journey to Germany and Scotland. The day after we arrived home in mid-July, the house filled with visiting family members. A few days later, we flew to Texas to help our oldest daughter and son-in-law move house. Erin is set to give birth to our grandson, Maxwell Thomas, in November. My house painting skills definitely came in handy on that trip! 🙂 Upon returning from Texas, our house filled up with visiting family again when Darla's sister joined us for her birthday week! We have enjoyed all the family time!
OUR TIME IN SCOTLAND
Our time with our Scotland friends and family was very sweet as we reconnected with those we have come to love so much. We had developed great relationships with many Scots when we lived there for nearly 3 years. It was so good to reconnect and spend time strengthening and encouraging them. We were in Scotland for 10 days before we moved on to Berlin Germany.
OUR TIME IN GERMANY
Berlin
Darla and I spent a few days praying around the city of Berlin before we were joined on the trip by our friends, Aaron and Cami Schermerhorn, from Eugene, Oregon. We then began a two day training with the Berlin House of Prayer. We had a wonderful time with their team and others from the city. Not only did wedo training, but we went out and did on-site prayer in the community of Pankow, which is on the outskirts of Berlin. One of the things that we were faced with were record high temperatures. We did our training in a building with no air conditioning and temperatures around 100° (38° C). We would like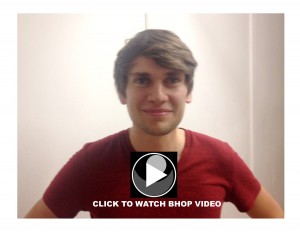 to honor and bless the Germans for coming out to the training in spite of the hot weather. We are so excited about what God is doing with these young prayer warriors and are very blessed to begin to build a relationship with them. We have been invited back and definitely look forward to more times with them in the future.
Nuremberg
Following our weekend in Berlin, we traveled by train with Aaron and Cami to Nuremberg to take part in a historic event called Awakening Europe. We offered to come early and help with set up.
On our first day, we worked in 97° temperature setting up tents for the ministry pavilion. That day was the first of many long hard days physically. The following day we were involved in the Awakening Europe Leader's Day which was very good and such a blessing to be involved in, since some of us didn't get to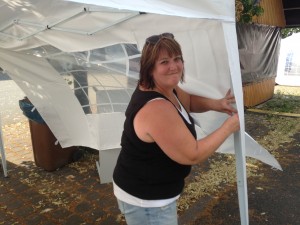 attend many of the event sessions because of our volunteer schedules. During the four day event, we all served as volunteers in different areas. Cami was a lead usher on the Usher team. Aaron served on the Healing team. I was on the Ministry team, while Darla worked with the Check-in and Information team.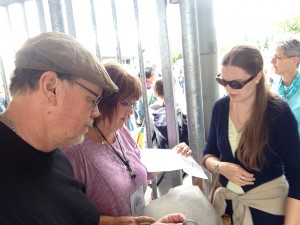 Darla quickly began to connect and build relationships with the young women she was working with and the Lord opened opportunities for us to minister over them. God began to do something powerful. Before we knew it, they were going and gathering all their friends and these two sisters even went and got their mom so we could pray for her as well. We felt so honored to minister over these young Europeans as many continued to seek us out.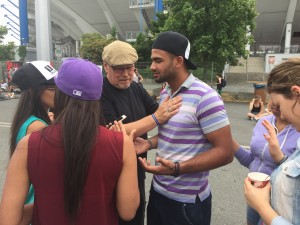 The conference was powerful and historic as 28,000 people, from all over Europe, gathered to declare that "Europe will be saved." The majority of those in attendance were young adults! Ben Fitzgerald and his ministry, Godfest, are planning another event next year, possibly in Stockholm, and we are praying about being involved then as well. It was such an amazing experience, and there are really no adequate words to describe what an honor it was to play even a small part in such a historic event!
Another exciting part of our time in Nuremberg was that I was able to do onsite prayer at the Zeppelinfeld (Nazi parade grounds), which is next to Grundig Stadium. I had some time on one of the mornings that Darla was scheduled for the early check-in shift. This year marks the 70th year since the end of WWII, and Zeppelinfeld is the very ground where Hitler commissioned his youth army and sent them out into Europe to war. I asked the Lord to cleanse the land and declared a new day for Germany.
THE SUMMER CONTINUES
Last week, Darla returned to Arizona to help the company she used to work for, and spend time with her sister Greta. At this time, it looks like she will be away for about three weeks in order to assist with the fiscal year end. God seems to be using both of us to minister to individuals and small groups of people since our return from Europe. The Lord is using Darla to pour into many young women's lives in Arizona as she makes herself available to share His love with those He leads her to. I am continuing to edit my book (almost finished), as well as making connections, counseling and consulting with area pastors and leaders.
We have several areas of service that we offer to churches and ministry organizations. If you think you might like to look at what we offer and possibly invite us to come to your church or organization, check out the link here.
Bless you and we hope you enjoy the rest of your summer.
How you can be involved with Burning Hearts Ministries:
1. Most importantly: PRAYER
Please pray for:
Direction and open doors for ministry in the months ahead
Making the right connections with pastors and leaders in Oregon, the Northwest and beyond
Continued provision
Support us financially

If you would like to help support us through BHM, you can do so:
In the USA:  Send your tax deductible contribution to Burning Hearts Ministries, 948 S 10th Street, Cottage Grove, OR 97424
You can also go to our website: http://www.burningheartsmin.org/support-us/ and click on "Donate" to give through PayPal.
God bless you abundantly!
Love & blessings,
Mike & Darla
Here are some other helpful links:
BHM Introduction Video: https://www.youtube.com/watch?v=X0D3jV_ysps&feature=youtu.be
BHM Media: http://www.burningheartsmin.org/media/
What We Offer: http://www.burningheartsmin.org/what-we-offer/